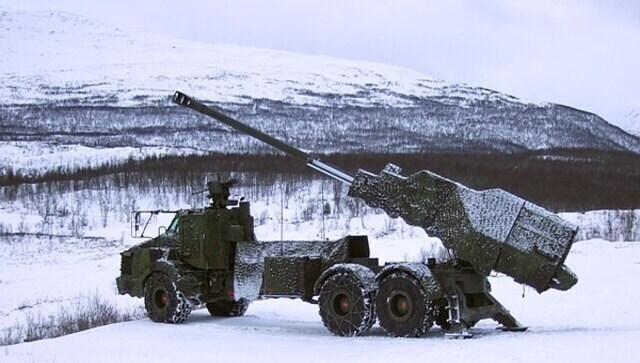 New Delhi: Stepping up its aid to the Ukrainian war efforts, Sweden on Thursday pledged to send its Archer artillery system to Ukraine along with armoured vehicles and anti-tank missiles.
Speaking at a press conference, Prime Minister Ulf Kristersson said his government had agreed on a three-part military support package for Ukraine, including "the first decision on starting deliveries of the artillery system Archer to Ukraine".
Sweden, which has broken with its doctrine of not delivering weapons to a country at war, will also send 50 CV-90 armoured vehicles and NLAW portable anti-tank missiles, the government said.
"Military support is decisive," Kristersson said, as "it can change who retakes the initiative this winter" on the front in Ukraine.
What is Archer Artillery System?
Archer Artillery System is a modern mobile howitzer requested by Kyiv for months.
Developed indigenously in Sweden, the Archer artillery system is composed of a fully automated howitzer mounted on an all-terrain vehicle, which allows the gun to be remotely operated by the crew sitting in the armoured cab. It was developed to create a more mobile version of the FH 77B field howitzer with a longer range of fire.
Archer has a magazine that can load 20 rounds with a capacity to carry 20 more for reloading. The gun's range is around 35 km with the standard ammo but can go up to 60 km when firing a GPS-guided Excalibur shell.
It has a fire the entire magazine in 2.5 minutes. The system is capable Multiple-Round Simultaneous Impact. It means that it can adjust the launch angle and velocity for every warhead to make sure all projectiles launched over a varied time hit the same target together.
Mounted on a truck, which ran to reach a top speed of up to 70 kph, the gun can be prepared to fire in less than 30 seconds and be back on road within the same time. The FH 77 series field howitzers are emplaced within around 10 minutes. This shoot-and-scoot capability allows the Archer to avoid any possible counter-battery fire.
On the front, it can help Ukraine to hit Russian troop deployments, and weapons depots, and escape being hit back because of the speed with which it can be at some other location even before its earlier location is picked up by the Russians.
The US supplied HIMARS, which has helped Ukrainian forces in their ongoing counter-offensive that started in July last year, also has the same shoot-and-scoot manoeuvring up its sleeve.
Sweden's Defence Minister Pal Jonson said the government had also asked the armed forces to come back with a recommendation on how many of the Archers currently in storage could be sent.
With inputs from AFP
Read all the Latest News, Trending News, Cricket News, Bollywood News,
India News and Entertainment News here. Follow us on Facebook, Twitter and Instagram.