New Delhi: AAP national convener Arvind Kejriwal on Saturday that stringent action will be taken against culprits behind the low-intensity blast at a police station in Punjab's Tarn Taran district
"Stringent action will be taken. Since AAP came to power, big gangsters nabbed in Punjab. People who were acting under the protection of old parties were caught. Strict action will be taken," on RPG attack at Sarhali PS in Tarn Taran, Punjab.
Some unidentified people fired the projectile at the Sarhali police station located on the Amritsar-Bathinda highway in the border district.
The Director general of police (DGP) Gaurav Yadav visited the spot while the forensic team checked the scene. "Preliminary investigation reveals that around 11.22 pm last night, a grenade was fired from highway using RPG. It hit suvidha centre of Sarhali PS. FIR registered under UAPA. Forensic team here. Army squad is here too," the Punjab DGP said.
"We will investigate this technically and forensically, all clues from the scene of the crime are being collected so that we reconstruct what happened. We are recovering the launcher," he added, as quoted by ANI.
Tarn Taran | Punjab DGP Gaurav Yadav arrives at Sarhali Police Station whose Saanjh Kendra was hit by a low-intensity blast. The forensic team is also here. pic.twitter.com/JBwOoxfaED


— ANI (@ANI) December 10, 2022
"The forensic team will tell you what exactly it is. They are checking everything and they will tell you. Nobody was injured," Prakash Singh, SHO, Sarhali Police Station said earlier in the day, as per ANI.
Meanwhile, Bharatiya Janata Party leader Manjinder Singh Sirsa attacked the Punjab government in a tweet writing, "@AAPPunjab Govt is busy partying in Gujarat/Delhi as per Kejriwal's diktat & @BhagwantMann Ji has ignored the peace & security of Border state!"

Punjab Congress President Amarinder Singh Raja Warring tweeted, "Ominous signals. This is quite serious. Enemies of peace have the audacity to attack police stations. It does not portend well for Punjab. We have to fight against it together. Govt at the Centre and State have to take the lead. Can't take such threats lightly. #DardaPunjab".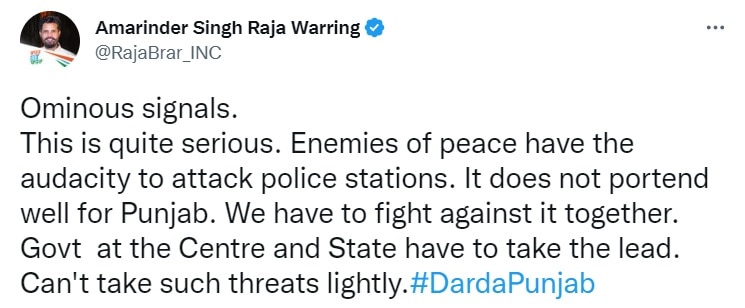 Earlier in May, a rocket-propelled grenade was fired at the Punjab Police's Intelligence headquarters located in Mohali. A minor explosion was reported at the Punjab Police Intelligence Headquarters in sector 77, SAS Nagar at around 7.45 PM on May 9.
The explosion had come close on the heels of the recovery of an explosive device near Burail Jail in Chandigarh on April 24.