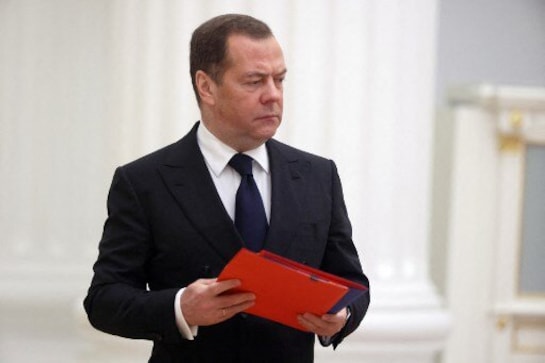 Russia's former president Dmitry Medvedev on Thursday said that nuclear power has never lost an existential conflict as he warned "morons" demanding the country's defeat in Ukraine.
Medvedev's warning came as Western nations prepared to discuss more military aid to Ukraine.
He slammed Western leaders for saying that "Russia's defeat" is the only way that the Ukraine war can end. Earlier, Polish PM Mateusz Morawiecki said that Ukraine's defeat would result in World War 3.
"Not one of those morons is apparently willing to make the next logical step: a loss by a nuclear power in a conventional war may trigger the start of a nuclear war. Nuclear powers never lost a major conflict on which their fate depended," Medvedev who currently serves as the Russian Security Council's deputy chair said.
Meanwhile, Kremlin on Thursday warned of an escalation in Ukraine if the West gives the pro-Western country more weapons capable of striking Russia.
"Potentially, this is extremely dangerous, it will mean bringing the conflict to a whole new level, which, of course, will not bode well from the point of view of global and pan-European security," Kremlin spokesman Dmitry Peskov told reporters.
With inputs from agencies
Read all the Latest News, Trending News, Cricket News, Bollywood News,
India News and Entertainment News here. Follow us on Facebook, Twitter and Instagram.