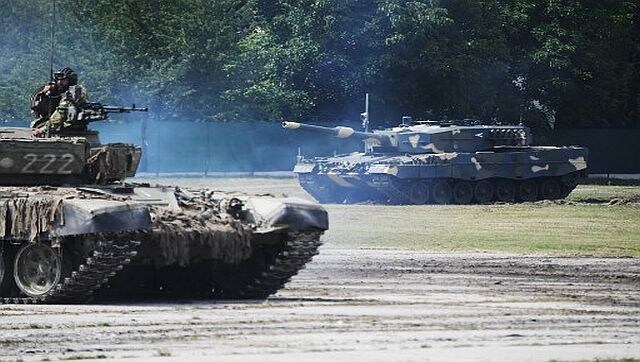 Kyiv/Berlin: Ukraine on Thursday appealed to its Western allies to finally send heavy tanks to help the war-torn nation combat the fresh Russian onslaught that has been pounding Kyiv and other cities over the past month even as the defence chiefs of the United States and Germany seem headed for a showdown over weapons that according to Kyiv could decide the outcome of the war.
US Defence Secretary Lloyd Austin was in Germany on Thursday to meet the new German Defence Minister Boris Pistorius, just hours after the latter was sworn into office on Wednesday.
Both the top defence officials will convince dozens of allies to pledge weapons for Ukraine at the United States' Ramstein Air Base, in a meeting billed as a chance to provide the arms to shift the ongoing war's momentum in 2023.
Military aid worth billions of dollars is expected to reach Ukraine and countries including Canada, the Netherlands and Sweden have already declared new packages comprising armoured vehicles and air defence systems to help the country in its bid to resist the fresh Russian attack.
The meeting's success, however depends on whether the influential European nations and the United States- see eye to eye on whether heavy tanks such as German-made Leopard 2 tanks can be sent to Ukraine. Kyiv has repeatedly been reiterating that it needs tanks and more weapons to fend off Russian assaults and recapture occupied land.
"We have no time, the world does not have this time," Andriy Yermak, head of the Ukrainian presidential administration, wrote on the Telegram messaging app on Thursday.
"The question of tanks for Ukraine must be closed as soon as possible," he said. "We are paying for the slowness with the lives of our Ukrainian people. It shouldn't be like that."
A big donation of tanks to Ukraine needs the resolution of a stand-off between Washington and Berlin, which has so far blocked allies from sending its Leopard 2 tanks, workhorse of militaries across Europe.
The US and many Western allies say the Leopards — which Germany made in thousands during the Cold War and exported to its allies — are the only suitable option available in big enough numbers.
Read all the Latest News, Trending News, Cricket News, Bollywood News,
India News and Entertainment News here. Follow us on Facebook, Twitter and Instagram.