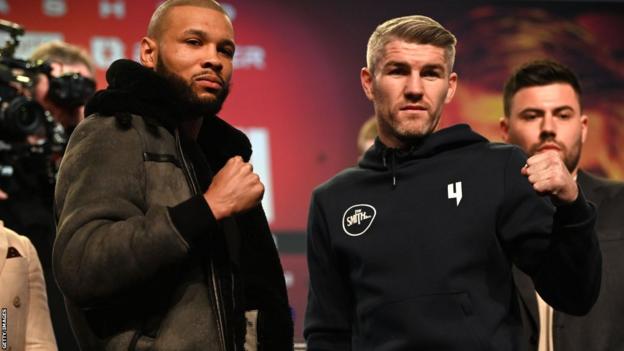 Venue:
AO Arena, Manchester
Date:
Saturday, 21 January.
Coverage:
Radio commentary on BBC Radio 5 Sports Extra from 20:00 GMT and main card from 22:00 GMT on BBC Radio 5 Live; live text coverage on the BBC Sport website & app.
Liam Smith and Chris Eubank Jr have apologised for their part in an ugly news conference on Thursday before their middleweight fight on Saturday.
Both fighters launched personal attacks, with Eubank the subject of homophobic taunts and Smith the subject of taunts about social class.
"There's no lines anymore," Eubank said after organisers tried to restore calm.
It marks another controversial day for boxing after a 2022 marred with doping, judging and governance scandals.
Boxxer, who promotes Smith and co-promotes Eubank, said it did not condone the behaviour from either fighter.
"Tensions were high and the fighters have apologised. Liam has apologised," promoter Ben Shalom said.
The rivals have clashed throughout the build-up, disagreeing over past sparring encounters among other verbal exchanges
Smith, 34, has labelled Eubank 'fame hungry' and began the conference by questioning Eubank's sexuality and repeatedly using a strong swear word to attack his opponent.
Eubank responded with a thinly veiled insult about Liverpool, the city Smith was born in, and his marriage.
Eubank, 33, admitted the conference "escalated quickly" and both men resorted to "personal" attacks.
"Everybody reacts in different ways to getting ready to fight another man," he said.
"He's so hellbent on trying to prove he's not rattled that he just went off the rails and I had to put him in line. We both went there, it got personal. That's OK.
"Boxing is personal, fighting another man is one of the most personal things you can do. So I get it."
Smith said his comments were a reaction to Eubank's past jibes.
"I just replied to some of stuff he says," he said. "I don't hate the man but I just don't like him. I'd never have a cup of tea with him.
"We're two polar opposites. I don't hate the man, I don't go to bed hating him."
Smith and Eubank will fight in a middleweight contest in Manchester in what organisers say is a sold-out event.
Despite the exchanges during the news conference, the customary face-off at the end of the event passed without incident.