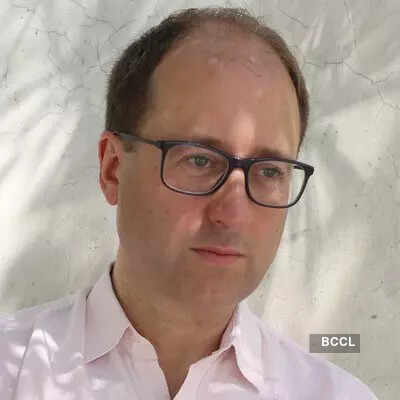 Author Patrick French, who is best known for writing the biographies of Sir Vidia Naipaul and Francis Younghusband, died on March 16, 2023 in London. He was 57 years old and was suffering from cancer.
French was also the Dean of the School of Art and Sciences at Ahmedabad University, Gujarat. He was married to Meru Gokhale, former Publisher at Penguin Random House India.
Reacting to the news, historian-author William Dalrymple said in a tweet, "Heartbroken to hear about the death of Patrick French, who I have loved and admired since we were both thirteen, and who was the Best Man at my wedding. He was funny & clever & charming, always full of enthusiasm & energy. He was also the greatest biographer of our generation."
Tributes have been pouring in on social media from the friends and admirers of the late author, who is being remembered as a warm and kind person. Here's what some of them said:
Author Aatish Taseer tweeted, "I'm so very sad to learn of the death of Patrick French—he was a wonderful biographer, historian, essayist and teacher. His Naipaul biography is a classic. And we had many funny times telling Naipaul stories. My deepest condolences to his family."
Vir Sanghvi tweeted, "Saddened to hear of the passing of Patrick French. He wrote about India with empathy, understanding & a deep insight based on research.
Most people will remember him for his biography of VS Naipaul. But I will always remember the insights he offered into our freedom movement."
Author-politician Dr Shashi Tharoor shared a picture of the Times Litfest Delhi 2019, wherein he had shared the stage with French. He tweeted:
My last public event with him was this delightful conversation at the Times LitFest before Covid. Though he looked forbiddingly serious (as in this pic), he had a delightful sense of humour. The cliche "witty and wise" could have been devised for him… Om Shanti pic.twitter.com/dxHHg0IXuI

— Shashi Tharoor (@ShashiTharoor) March 16, 2023
Ramachandra Guha said in a tweet, "Deeply saddened to hear of the passing of Patrick French. He was a wonderful writer, whose books on Francis Younghusband and VS Naipaul are classics of modern biographical writing. He was also a very fine human being, unfailingly generous to friends and strangers alike."
Jairam Ramesh tweeted, "Patrick French was a wonderful writer, 2 of his books particularly are scholarly & riveting: his biography of Francis Younghusband & his account of events leading up to partition. I profited hugely from my conversations with him on Tibet & it's difficult to believe he's no more."
At the time of his death, French was writing a biography of British-Zimbabwean Nobel laureate Doris Lessing.
He first attracted the attention of the world with his authoritative account of the life and adventures of Sir Francis Younghusband, the British explorer and diplomatist who revealed, as it were, Tibet to the western world after his historic 1904 expedition.
French, however, will be remembered in India, apart from his work to put together Ahmedabad University, for his insightful book on Partition — 'Liberty or Death: India's Journey to Independence and Division' — which offered a revisionist view of the respective roles of Mahatma Gandhi and M.A. Jinnah in India's independence movement.
His biography of Naipaul, 'The World is What It Is', made Ian Buruma in The New York Times declare him as the inventor of a new genre — "the confessional biography".
Apart from writing and setting up an academic institution of note, French also unsuccessfully contested the 1992 parliamentary elections in the UK as a Green Party candidate, actively crusaded for a 'Free Tibet', and in 2003, politely declined the Order of the British Empire, which the Queen wished to bestow upon him.
(With inputs from IANS)