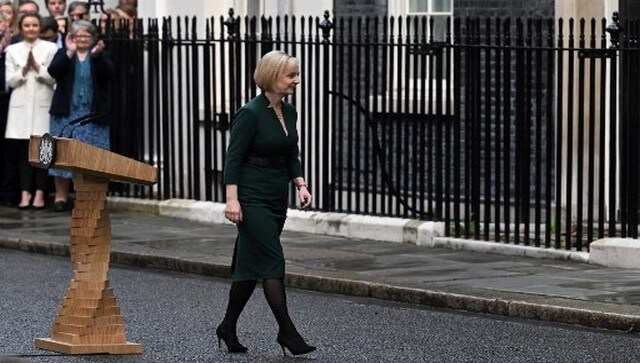 London: Former Prime Minister Liz Truss's Jenga-style podium, which she used on multiple occasions during her stint, cost taxpayers £4,175.
The podium, which has been compared to a Jenga tower – a board game that results in total collapse – was specially made for Liz Truss who lasted in 10 Downing Street for just 45 days.
The particular podium in question resembled Jenga blocks ready to topple. During her term, Truss had two podiums made for her, one was paid for by the Conservative Party and the other one was paid for by the government, The Mirror reports.
Based on data provided by information request, Downing Street spent £4,175 on the latter.
'Jenga design should have been a warning sign'
Labour Party's deputy leader Angela Rayner said, "Not only did Liz Truss and the Conservatives topple the British economy and spike mortgage repayments, they have left taxpayers picking up the tab for this personalised lectern."
"Her choice of a Jenga design should have been a warning sign of the chaos she was about to unleash. This grotesque monument to failure should serve as a reminder that the Tories should never again be trusted with the nation's finances," she added, according to The Guardian.
Meanwhile, current prime minister and Liz Truss's successor Rishi Sunak, who has been desperate to dissociate his government from that of Truss's claimed that he doesn't use the podiums anymore.
Instead, Sunak said that he uses a podium that was "purchased under a previous administration."
Read all the Latest News, Trending News, Cricket News, Bollywood News,
India News and Entertainment News here. Follow us on Facebook, Twitter and Instagram.