Georgia's second-straight championship celebration has ebbed, the transfer portal has closed, and so has the window for underclassmen to declare for the NFL Draft. So now it's time for the college football world to catch its breath, right?
Not so much.
There is plenty to talk about as we enter the thick of the sport's offseason, and our writers are already thinking about the months ahead as they prepare for the 2023 season. We asked RJ Young, Michael Cohen and Bryan Fischer what will be most prominent on their minds in the coming months.
Our way-too-early 2023 Top 25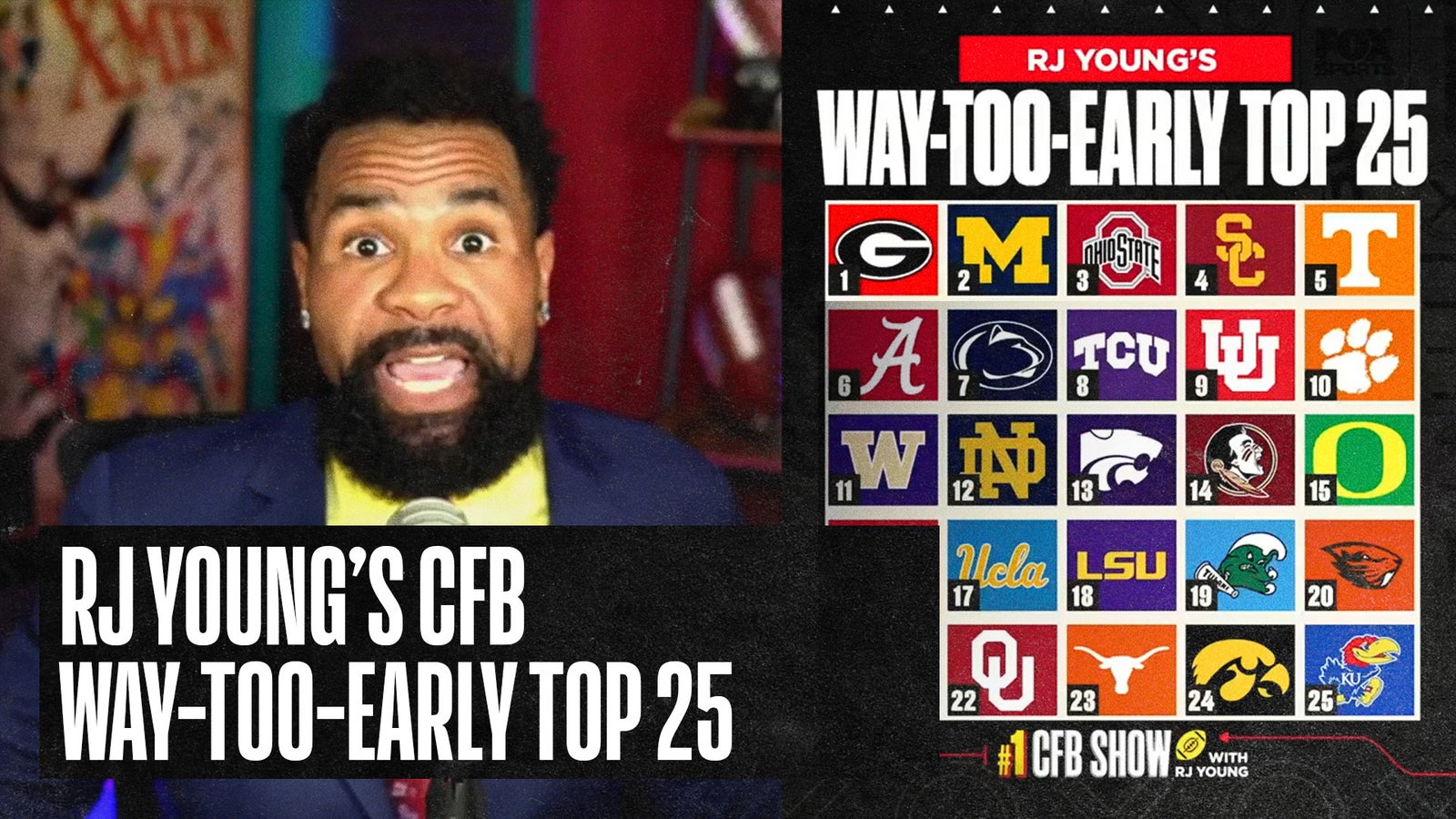 RJ Young breaks down his top 25 schools for the 2023 season.
Which team will you be watching most closely in the upcoming offseason?
RJ Young: Colorado — Coach Prime's Buffaloes are the most popular team west of the Mississippi. This is the power of Prime's presence in Boulder, Colo., alongside that of his blue-chip quarterback son Shedeur Sanders, with former five-star Travis Hunter in tow.
While many are still asking if CU is overhyped, I'd point them to Lincoln Riley — a coach many said would need two or even three years to turn around a USC program that finished 4-8 the year before he arrived. He needed just one offseason to flip the Trojans into a power that won 11 games and made its first appearance in a New Year's Six Bowl game in five years.
Prime is that kind of talent as a head coach, too.
Bryan Fischer: Colorado is a natural answer but a pair of — dare we say former? — titans might pique my interest more. You used to be able to pencil in Alabama and Clemson for the CFP and national title game like clockwork, but that is no longer the case due to a variety of factors. Perhaps that's why I'd split the difference and say I'm paying a little closer attention to the Tide/Tigers than normal as each undergoes a bit of a reboot this offseason.
Dabo Swinney obviously made the big move in bringing in TCU's Garrett Riley as a splashy OC hire, something that not only gives the team some more offensive juice going into 2023 but also signals a statement of intent that they want to get back to a place they were just a few seasons ago. You wonder if this will lead to some changes in how they recruit or hit the transfer portal, as this doesn't quite feel like something that's just a staff shakeup. The same is true in Tuscaloosa, where Nick Saban will have quite a few new staff members and will have to deal with no longer being the gold standard in the sport given what Kirby Smart has done in Athens.
Michael Cohen: It's difficult to choose just one with so many marquee programs experiencing change in some form or another. From a pure football perspective, it's hard to ignore the quarterback competitions at Alabama, Ohio State and Georgia — three schools with perennial national championship expectations that will be searching for successors to some of the best signal-callers the sport has seen in recent years.
From a broader perspective, everything that's happening at Michigan right now is captivating — and not for the right reasons. The ongoing cryptic crawl of Jim Harbaugh's interest in the NFL has the potential to stall recruiting for a second consecutive offseason, as does the lingering NCAA investigation for which the head coach faces a potential Level I violation. And just this week, news broke that co-offensive coordinator/quarterbacks coach Matt Weiss is part of a police investigation for potential "computer access crimes" within Schembechler Hall, the football program's headquarters in Ann Arbor. There are too many negative headlines dogging the Wolverines as they pursue a third consecutive CFP appearance.
Can Colorado climb with Deion Sanders?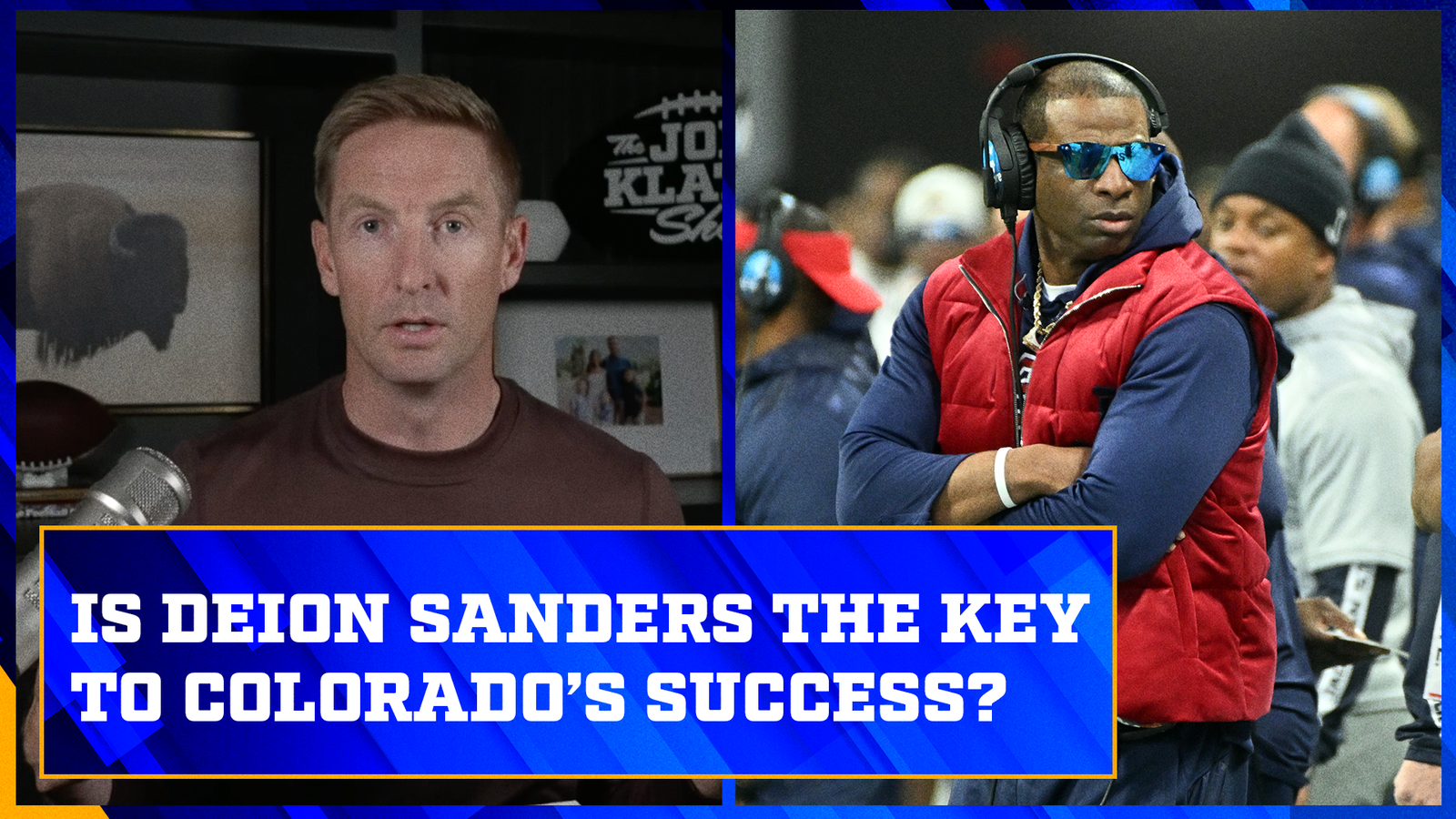 Joel Klatt breaks down what "climbers" are in CFP and believes the Colorado Buffaloes are at the top of the list.
There will be a number of new quarterbacks leading teams next season. Which will you be most interested in watching during spring practices?
Fischer: I am fascinated by DJ Uiagalelei landing at Oregon State. He's obviously got tremendous natural talent and won a lot more than people seem to think, even if he did end up losing the job to freshman Cade Klubnik at Clemson. Jonathan Smith is an excellent developer of talent, and I think this could end up being one of the savviest moves for both parties considering the Beavers were a QB away from winning the Pac-12 last season.
Elsewhere, Hudson Card displayed flashes of talent at Texas and will be an intriguing fit at Purdue as they go full Air Raid under new coach Ryan Walters. Former Wisconsin QB Graham Mertz seems to have the keys to the car early on at Florida, which is somewhat hard to fathom considering his struggles in the Big Ten, and the obvious challenge going up against some speedy SEC defenses that he'll have to adjust to. Ex-Wake Forest signal-caller Sam Hartman feels like a massive upgrade under center for Notre Dame and the most intriguing of the lot might end up being Jeff Sims landing at Nebraska for an entirely new offensive staff that could really highlight what he can do with the ball in his hands.
Cohen: Shedeur Sanders at Colorado. The son of headline-making, game-breaking head coach Deion Sanders followed his father from Jackson State to Boulder, where the Buffaloes will be one of the most fascinating storylines in the sport in 2023. Not only is Sanders adjusting to a new school, new football program and new set of teammates, but he's also making a huge jump from FCS level at Jackson State to a Pac-12 conference loaded with great quarterbacks at USC (Caleb Williams), Oregon (Bo Nix) and Washington (Michael Penix Jr.), among others. He threw for 3,732 yards and 40 touchdowns a season ago, but how will that translate against significantly better competition? Sanders was the 26th-best quarterback in the 2021 recruiting cycle, according to 247Sports, and held scholarship offers from places like Alabama, Georgia, Michigan and LSU. Talent level probably won't be an issue. It's more about how quickly he can adjust.
Young: Like Michael, I'm interested in Shedeur Sanders at Colorado. With the facilities and might of a Power 5 program behind him, I expect his play to elevate.
However, Kyle McCord at Ohio State is going to get my attention from the moment spring practices begin. As I wrote earlier this week, McCord is not just a brilliant talent but has had the best chemistry with the program's best receiver in Marvin Harrison Jr. 
McCord and Harrison played high school football together at St. Joseph's Preparatory School in Philadelphia, where they won a state championship. McCord left Philadelphia with the city record for career passing yards (6,887) and career passing TDs (88) while Harrison left with the city record for career receiving yards (2,624) and career receiving TDs (37).
This means neither is new to the other, neither is new to record-setting performances and neither is new to winning championships — all expectations when you wear the scarlet and gray at one of the nation's proudest programs.
Unlike brilliant talent Devin Brown, McCord has also started for the Buckeyes — against Akron in 2021 after C.J. Stroud was banged up at the beginning of the season.
Can Ohio State reload?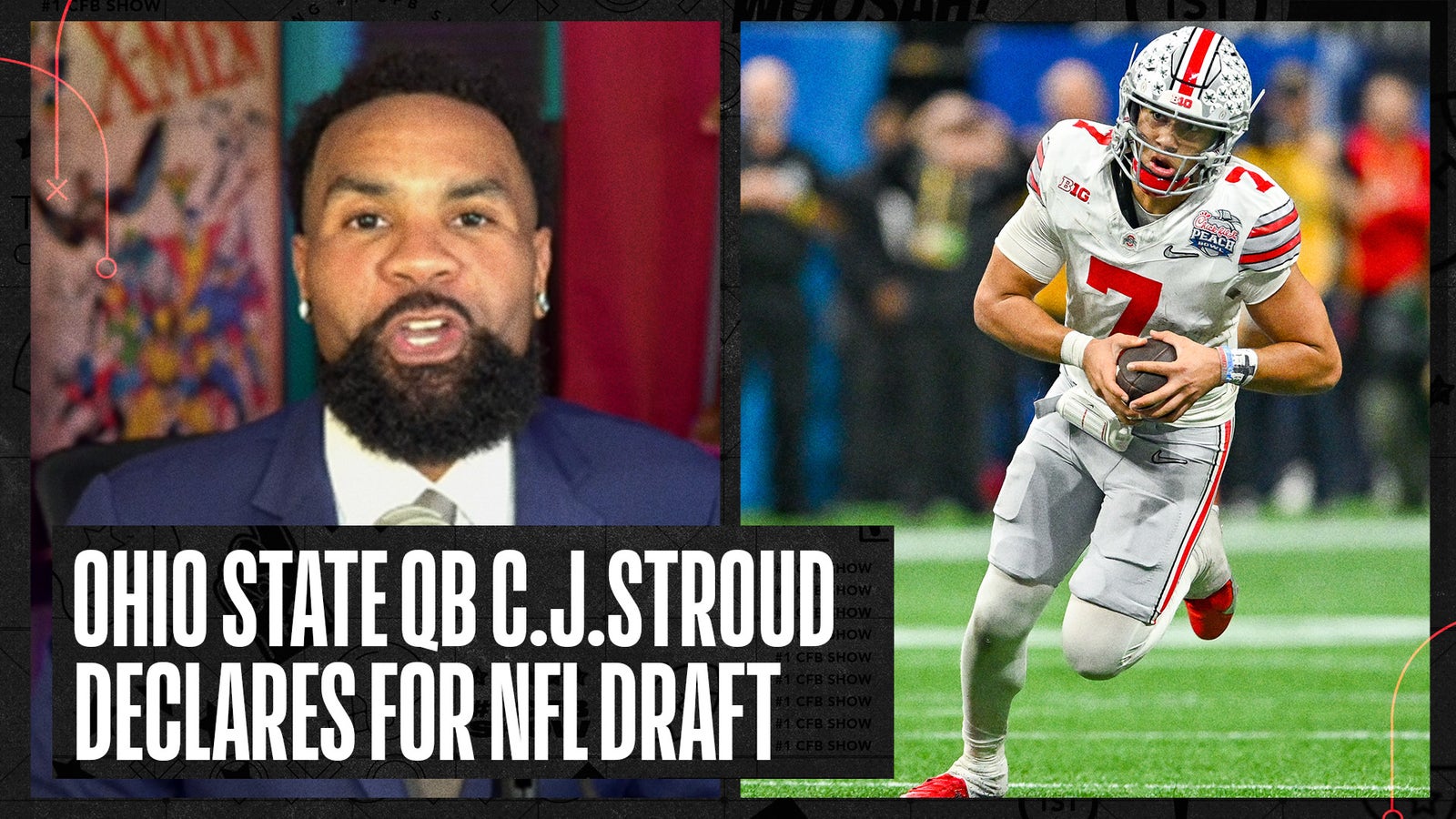 Fox Sports' RJ Young shares his thoughts on Brian Hartline's promotion to Ohio State's offensive coordinator and the challenges that may come with a new starting QB in his first year as C.J. Stroud declared for the NFL Draft.
When it comes to recruiting, what national contender has the most work to do ahead of the Feb. 1 signing day?
Cohen: Probably Michigan. Despite winning more games than anyone but Georgia in the last two seasons, Harbaugh has been unable to wed his on-field success with ruthlessness on the recruiting trail. His 2022 recruiting class finished 12th nationally in the 247Sports rankings but needed a handful of late flips from prospects who were committed to schools that changed coaches just to get there. At the time, Harbaugh's openness about his interest in pursuing NFL opportunities rubbed certain recruits and parents the wrong way, with some of them questioning his dedication to Michigan. And even though Harbaugh appears to be staying for 2023, his choice to interview with the Denver Broncos and have an introductory conversation with the Carolina Panthers could have the same negative impact this time around. The Wolverines' current class ranks 17th nationally and third in the Big Ten, behind Ohio State and Penn State. None of the players who signed with Michigan are ranked among the top 150 prospects.
Young: I agree with Michael again here. It's startling to see the two-time defending Big Ten champion ranked outside the top 10 in 2023 recruiting just two weeks before National Signing Day. However, with Harbaugh coming out to emphatically say he's coaching the Wolverines in 2023, UM has a chance to close exceedingly strong.
Fischer: Given all the Harbaugh-to-the-NFL discussion, it is not at all surprising to see the Wolverines struggling in the rankings for a second straight season. They've also made talent retention and supplementing the roster with key transfers a priority, so it might be worth putting them in a separate category. 
The confounding contender I see is USC. Normally you will see a big bump the season after a coach arrives, but that's not quite been the case for Lincoln Riley & Co. in Los Angeles. Sure they've got a number of transfers coming in, too, but I expected a top 5-8 class given the obvious flagship brand, a good year for prospects on the West Coast and the progress the Trojans displayed in Year 1 under Riley. Plus, who doesn't want to play with a Heisman winner in your first year on campus? USC has a solid class filled with some building blocks for the future, but you would have expected slightly more from a program that typically ends up with a chance to crack the top five most cycles.
What Michigan fans can expect with Harbaugh's return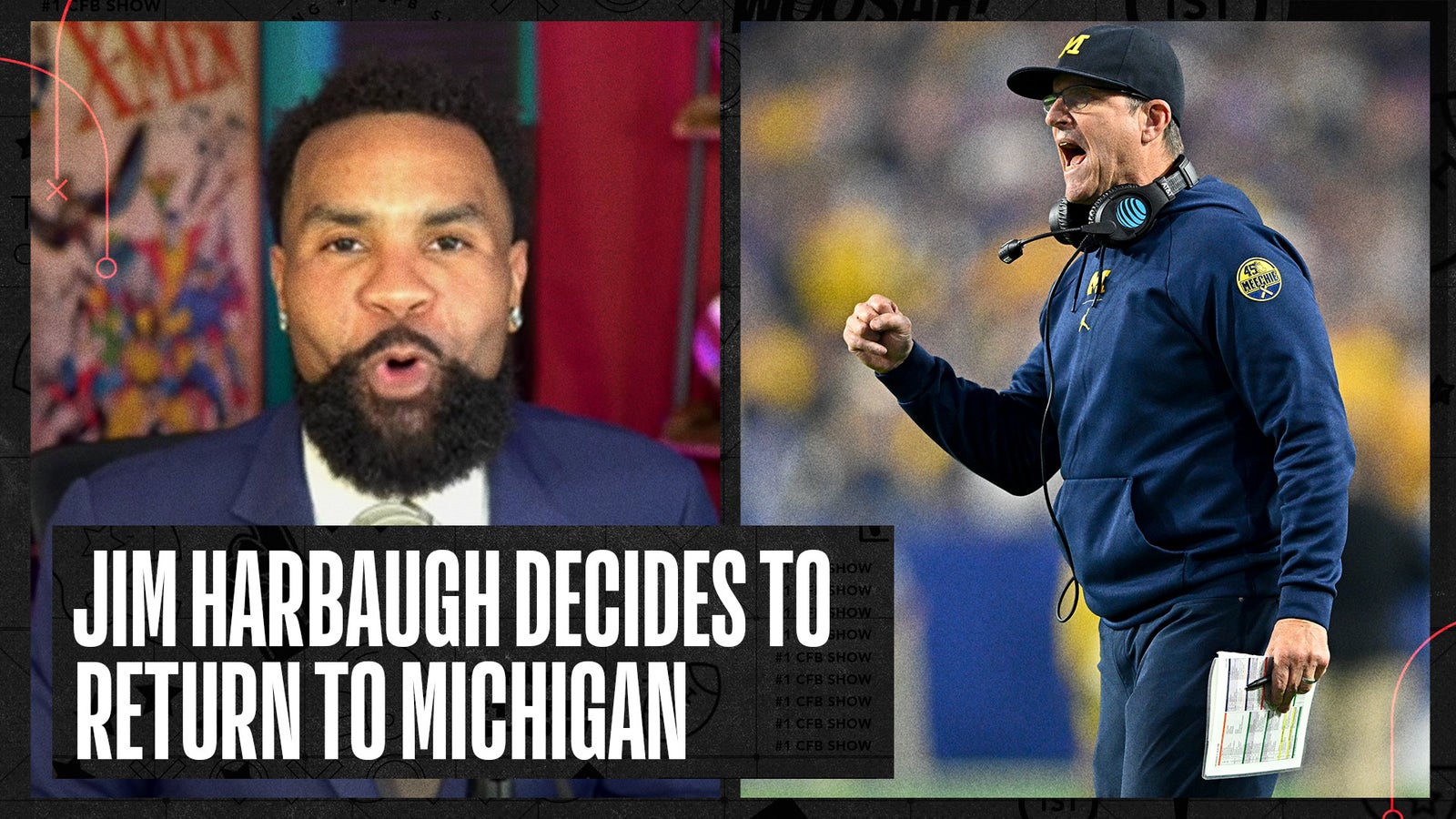 RJ Young shares his thoughts on Michigan's Jim Harbaugh and his continued interest in the NFL.
Which star player who DIDN'T opt to enter the NFL Draft will have the biggest impact?
Young: Michigan running back Blake Corum is the answer. After a Heisman-caliber season — a snubbing I believe was indefensible — his return to Ann Arbor was legitimately shocking.
Following a season-ending knee injury, the Wolverines missed his presence most in the College Football Playoff. Now, with most knowing Donovan Edwards is as much a home-run hitter as Corum is, the Michigan backfield is the most formidable in the sport.
Before he announced his return, Michigan still felt like the team to beat in 2023 above the Mason-Dixon Line. Now, the Wolverines feel like a team ready to contend for the national title.
Fischer: Agree that Corum is a top choice considering where he was in my Heisman rankings most of the season, but it's worth noting that he'll be brought back slowly from that knee injury and will need to shoulder less of the offensive burden between Edwards and J.J. McCarthy increasing their workload. 
That said, Washington's Penix led the country in passing and returns to a roster that was playing the best out of anyone in the Pac-12 in the second half of the season. The Huskies have the most favorable schedule out of the conference's contenders and their signal-caller is the engine that makes the entire operation go. Sure, the reigning Heisman winner is already on the West Coast, but between the numbers Penix puts up and how much he means to those on Montlake, it wouldn't surprise me if 2023's biggest star calls the Pacific Northwest home.
Cohen: That might be offensive tackle Olu Fashanu from Penn State. The lengthy career of quarterback Sean Clifford came to an end with a Rose Bowl victory over Utah earlier this month, and now the transition to former five-star prospect Drew Allar begins. What a luxury it is for Allar to have his blindside protected by one of the best offensive tackles in college football, a player who didn't allow a sack in 299 pass-blocking snaps last season. Fashanu was tied for the 10th-best pass-blocking grade in the country among offensive tackles who logged at least 275 snaps last season, a mark good enough for sixth in the Power 5 conferences. He was viewed as a potential first-round pick in the 2023 NFL Draft and might have been the first offensive tackle selected. Instead, he'll give Allar the best security blanket a young quarterback could ask for. 
Which conference will be the most interesting to watch this offseason?
Fischer: I'm all aboard the Big 12 bus this season given so much is in flux for what was the deepest conference a year ago. At the top, storylines abound with Texas featuring a tasty quarterback battle and huge expectations, Oklahoma trying to rebound from its worst season since John Blake was in charge and just about everybody wondering what TCU and Sonny Dykes can do for an encore. Reigning champ Kansas State will be no pushover despite the loss of Deuce Vaughn, and I'd expect the likes of Baylor and Iowa State to be far more balanced and dangerous moving forward. Kansas still has Jalon Daniels and a terrific coaching staff, Texas Tech looks to be ascending, and you have some pressure on those at Oklahoma State and West Virginia, too.
Toss in the conference realignment angle, with four new schools competing and two possibly playing their final campaign under the Big 12 flag, and there's an easy choice for me. 
Cohen: The Pac-12 should be one of the most entertaining leagues from now through the end of the 2023 season, not just the next few months. A league known for high-flying offenses brings back some of the best quarterbacks in the country in reigning Heisman Trophy winner Williams at USC, Nix at Oregon, Penix at Washington and Cam Rising at Utah. And the newcomers are just as headline-worthy: five-star freshman Dante Moore, who flipped from Oregon to UCLA right before the early signing period; Clemson transfer Uiagalelei at Oregon State, one of the fastest-rising programs in the sport; and Jackson State transfer Shedeur Sanders, whose father, Deion Sanders, is the man of the hour in college football. It's hard to imagine a league having more high-profile quarterbacks than the Pac-12 does in 2023. 
Young: The Big 12 will feature 14 teams for the first — and perhaps only — time in its history in 2023. With BYU, Cincinnati, Houston and UCF all joining the conference in the last year that Oklahoma and Texas will call it home, much will be made about the strength of the conference in the present and in the future.
No one expected TCU or Kansas State to feature in the Big 12 title game last season, and wouldn't it be quite a story if one of the new members made it to the title game in their Year 1? Yes. It would also be quite a story if Oklahoma and Texas featured in the Big 12 title game on their way out the door.
Can anyone stop Georgia from three-peating next season? 
Cohen: It seems unlikely anyone will unseat the Bulldogs in 2023. The juggernaut assembled by head coach Kirby Smart has a chance to become the first program to win three consecutive national titles since Minnesota from 1934-36, and Georgia should be an overwhelming favorite to do it. Losing quarterback Stetson Bennett certainly presents a challenge for the Bulldogs to overcome, but the three players expected to compete for the job — Carson Beck, Brock Vandagriff and Gunner Stockton — were all highly rated recruits who could have committed to virtually any school in the country. Tight end Brock Bowers will give whichever quarterback wins the job an elite offensive weapon who is arguably the best skill player around. In typical Georgia fashion, the incoming recruiting class is ranked second nationally to Alabama and features nine of the top 100 defensive players available. The Bulldogs are well-positioned for a three-peat.
Fischer: We've often seen these dynasties run into issues of their own making, or simply wind up being unable to deal with the pressure that comes from a run like this. The Bulldogs return a ton (and have the easiest schedule imaginable) but I'm sure Kirby Smart will be doing everything he can to get the team focused on making a little history in 2023 regardless who the opponent is.
I wouldn't be surprised if something wild happens next year though. Michigan and Notre Dame both looked primed for playoff runs, while USC was on the verge of the final four and has nowhere to go but up with a defensive unit that cost them down the stretch. I'm not ruling out Nick Saban from doing anything as long as he's on the sideline, and you can bet Tennessee is spending all offseason with just one team in mind that comes to Neyland late in the season. 
Still, perhaps it's worth pre-booking a trip to Houston next January for those that prefer red and black.
Young: Yes, anybody can. But not anybody will. UGA's toughest opponents all season still remain in the SEC, and the team with the best chance to beat the Dawgs still resides in Tuscaloosa.
Even with Tennessee and LSU on the rise, the Dawgs are chasing that most coveted adjective in the sport — dynastic. They aren't just national champions. Now, they're in a rarefied air that features Jimmy Johnson's Miami Hurricanes, Urban Meyer's Florida Gators and Nick Saban's Alabama Crimson Tide.
More on College Football:
Top stories from FOX Sports:
---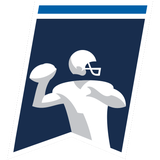 Get more from College Football Follow your favorites to get information about games, news and more
---
---